You might not know this, but the baby showers we know are a relatively new invention. But that doesn't mean that giving gifts to expectant parents wasn't done before baby showers became popular. New babies have always been a source of joy and celebration — but in past times, these celebrations were very different from what we know today.
Ancient Greeks and Egyptians held rituals to celebrate the new baby and its mother. During these rituals, they also offered gifs and good wishes to different gods and goddesses. During the Middle Ages, the baby's baptism served as an opportunity to give gifts to the new parents. It was common for gifts to have religious significance, and godparents were usually the ones who gave them.
Later, during the Renaissance, mothers were given lavish gifts upon the birth of a baby. It was during the Victorian era that baby showers started to take shape. Back then, pregnancy and childbirth weren't discussed publicly, so these celebrations took place after the baby was born.
Victorian baby showers were tea parties that included games and gifts for the new mother. They became more popular over the following decades, and they were known as "stork parties". Baby showers became widespread — especially in the US — during and after both World Wars; they provided an opportunity for loved ones to help new parents financially after the economic hardship caused by the wars.
When should you celebrate PROUD OF MY MOM Day Party on baby shower?
There's no hard and fast rule that dictates when you should have a baby shower. Most baby showers are thrown approximately 4 to 6 weeks before the baby is born. That way, guests can have the baby's gender in mind when choosing gifts and decorations.  Many mothers choose to have their baby shower later in their pregnancy because the risk of miscarriage decreases with each passing week. It also means that you'll have a clearer picture of the things you're still missing and that your loved ones could help you with.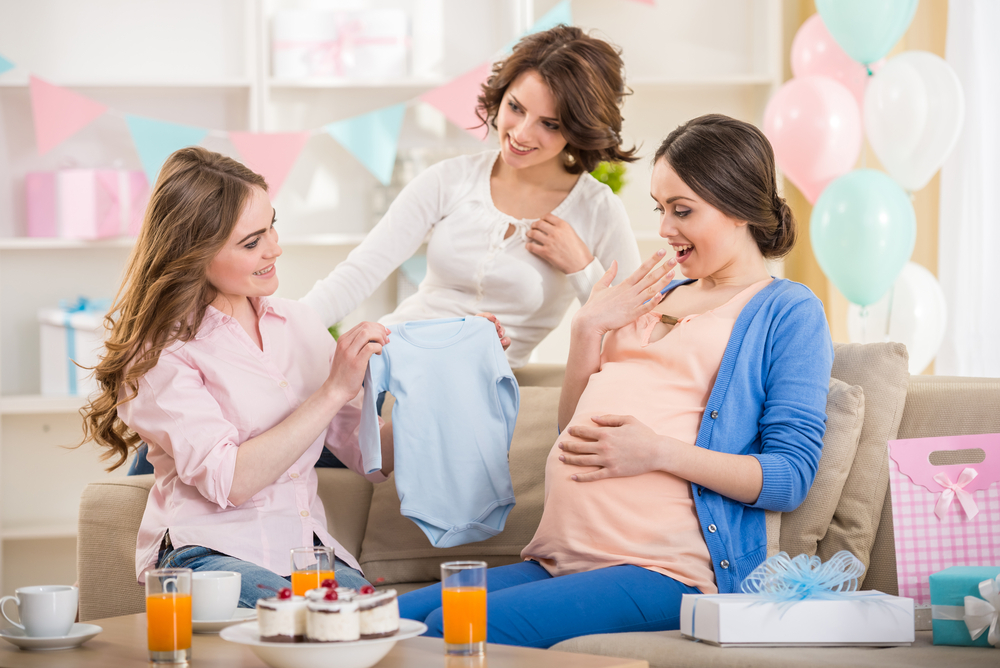 Baby shower planning
Traditionally, planning a baby shower isn't done by the expectant mother herself. Instead, friends and family members come together to plan the celebration. After all, the meaning of a baby shower is to "shower" mom and baby with gifts and love!
If you're an expectant mother and no one has come forward to plan your baby shower, it's perfectly acceptable to approach a close friend or family member and ask if they could do it. And even though most moms choose to relax and let others plan the shower for them, you can always help your loved ones with the planning if you desire. But if they insist on taking care of everything without your help, let them! This is an opportunity for them to show you and the baby love and affection.
Who to invite on PROUD OF MY MOM Day Party for baby shower?
Baby showers are heartfelt, highly emotional, and sometimes even tearful events. On another level, they tend to be highly orchestrated, with choreographed activities and carefully matched baby shower decorations, supplies, and favors in pink or blue to enhance the baby shower theme for boys or girls.The guest list for every baby shower is different. Usually, the expectant parents' close family members and friends are invited. But the planners should keep in mind that mom could prefer to keep some people off the guest list. It's always a good idea to ask the mother about the guest list before sending out any invitations.
For a long time, baby showers were an all-female affair. However, co-ed baby showers have gained popularity in recent decades. Before, pregnancy and birth were taboo topics that were only meant to be discussed amongst women. But it has become increasingly acceptable – and expected – for dads to be more involved. If you're planning a baby shower, ask the parents if they'd like an all-female or co-ed baby shower before putting together the guest list.